It is our honor to invite you to the opening of the photo exhibition entitled 
Srebrenica, the memory of the genocide
photographers Alfons Rodriguez scheduled for July 10 at 19:00
at the Historical Museum of Bosnia and Herzegovina.
The exhibition is realized in cooperation with the Network "European Observatory memories" - European Observatory on Memories (EUROM), the Historical Museum of Bosnia and Herzegovina and the Foundation of Local Democracy. 
EUROM is a network of organizations and institutions from Europe and South America, established at the initiative of "Fundació Solidarity" at the University of Barcelona, which aims to preserve the past, the construction of cultural memories.
As part of the 20th anniversary of the Srebrenica genocide, EUROM in cooperation with members of the Network of Bosnia and Herzegovina, the Historical Museum of Bosnia and Herzegovina and the Foundation of Local Democracy, in addition to the exhibitions, activities will be organized on July 11th.
On this occasion, we invite you to attend the event, which will also happen in the Historical Museum of Bosnia and Herzegovina.
This event will start at 20:30 in Sarajevo, and in parallel it will take place in Barcelona. It will be marked by a video projection and display names of the victims of genocide, while at the front wall of the museum, will start projection of the work SREBRENICA-GUERNICA, which will be implemented by a group of young artists gathered in the group Collective Kreaktiva (YAGE). Both events will run until midnight.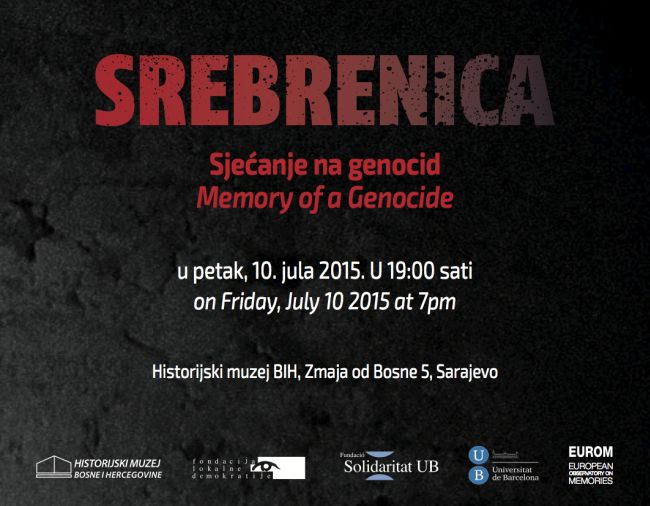 PHOTOGRAPHS by
ALFONS RODRÍGUEZ
His documentary photographic work has been exhibited in different countries of Europe, America and Africa. He has published several reports during his more than 20 years of professional career developed in more than 100 countries. 
Important media, such as National Geographic, La Reppublica, The New York Times Lens, El País, Geo, The Courier, El Periódico de Cataluña, El Mundo, Vogue, La Vanguardia, Yo Dona, Gatopardo, or The Moments Count Journal have published his pictures. 
He has also written several books, such as: Between Gazes y El Tercer Jinete, un mundo hambriento (The Third Rider). He has worked together with organisations and international agencies, such as the United Nations, Oxfam, Doctors without Borders, Solidarity Foundation of the University of Barcelona, or Action against Hunger.
He has been awarded numerous national and international prizes, such as the Premio Godó de Fotoperiodismo (Godó Award for Photojournalism), precisely for a picture from his work in Srebrenica. This exhibition seeks to remember the pain still suffered by that small city from Bosnia and Herzegovina and, therefore, his photographs have been exhibited for more than five years in different cities, such as Sarajevo, New York, Rome, or Barcelona, among others.
www.alfonsrodriguez.com
TW: @alfonsrodriguez